Are you thinking of buying your first home but terrified by what it may cost? You might be wondering how much money you need to save up in order to buy a home and What unexpected costs should you expect?
Buyers in today's real estate market have it pretty good, in fact, it can be easier to buy a home then to find a good rental home in the Sacramento California market. There are a lot of misconceptions when it comes to how much money you actually need in order to buy a home. As a first time home buyer you may have heard that you will need to save enough money in order to put 10 to 20 % down but the truth is there are SEVERAL programs such as FHA, VA and even Conventional programs where you only need about 3% down.
Now, if you're having a hard time coming up with that much, there are several downpayment assistance programs available as well that you may qualify for. I'll be going over those with a lender partner in an upcoming video so make sure to subscribe to our page or feel free to reach out for details on that.
Something to be aware of is that costs can fluctuate a lot from county to county as well as starter home to luxury home right now, I'm going to go over, step by step, all the costs you may expect for an average starter home in the Sacramento area….
For a round number we're going to use a purchase price of $300,000
In negotiating the purchase there are ways to adjust terms in the contract to help lower the cash out of pocket at closing. Typically, only experienced agents know how to do this well and it's usually a give and take situation. For example, a buyer will come up $X on the purchase price if the seller agrees to pay $Y in closing costs.
After successful negotiations, you will hopefully have an accepted contract!
At that time, the 1st check you will be writing is the Earnest $ deposit. The deposit will be made payable to the escrow company that manages all the money for the transaction.
A typical deposit in this price range is $1000. The deposit is a credit toward your funds due at the close of escrow. However, keep in mind, the purpose of the earnest money deposit is to secure the purchase contract... and should you default on the purchase, that money could be at risk.
This is where contingencies come into play! Contingencies protect you from losing that money should you find any issues with the house during inspections such as issues with the appraisal value, if something happens with your ability to obtain financing, you find any problems with the house, or run into issues with financing during your contingency period, you have the ability to pull out of the transaction or renogotiate without losing that money.
With that being said, your next step in a transaction is your due diligence period or time to inspect the property for defects. We recommend that you get a pest AKA termite inspection, home inspection, and roof inspection. Some companies will have packages that cover all of those but you'll want to make sure to hire a competent home inspector and pest inspector. If the property has a pool or septic it's always a good idea to get a professional to check those critical systems for you as well.
Inspection costs can range from $100 to $200 for pest and $300 to $600 for home inspection based on size, location and type of foundation.
For our example we will assume it's a townhome. Townhomes are mostly maintained by and Home Owners Association or HOA that you'll pay monthly dues for. HOA's typically cover the roof and exterior structure maintenance so you can have an inspector visualy look at it and if there are issues, get a letter from the HOA stating they will make those repairs. For townhomes and condos termite companies will often do a limited inspection of just the interior for under $100. For our example we'll assume the HOA fee is $350 per month.
More often than not, inspectors will find things that need repair or upgrading. At that point you can re-open negotiations to ask the seller to make repairs or credit $ back for the repairs needed.
Let's assume for our example that there were a few electrical issues and minor plumbing leaks that needed repair. A good agent can then get an estimate from an electrician and plumber to have those issues corrected and use those estimates as leverage for negotiation. For our example let's assume it would cost $500 for the repairs and we got the seller to agree to credit $500 toward closing costs.
Within the first week your lender should order an Appraisal to make sure the value is there to secure your mortgage. Traditionally your lender would have you pay that fee directly but today that is typically paid through escrow so you will not have to write a check for that seperately.
Inspections are usually the only thing you'll need to pay for OUTSIDE of Escrow.
All other closing costs your lender will want to see paid through escrow... you will receive a document from your Escrow company called an Estimated Settlement Statement that line items all closing costs AND credits.
Here's an example of what the Estimated Settlement Statement looks like so we can discuss what other costs to expect when you buy a home.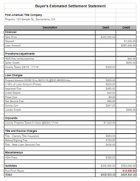 (scroll to bottom for full size )
This might look pretty confusing but if you look at the columns at the top, the Credit section is where you will see all funds going toward the purchase, such as your deposit, your mortgage and seller credit.
Now, Debits are items that ADD to your COST such as the purchase price, taxes and fees. At the bottom of this column you can see what the TOTAL COST of the home is, including the closing costs. The total cost in our example was $305,500.
Let's do a little math to show you how much money is actually needed to buy this home:
If we take the Downpayment of $9000, the difference between the mortgage and purchase price and add up all the other closing costs of $4500, the buyer paid only $13,500 through escrow! This doesn't include the $500 or so you would expect to pay outside escrow for inspections.
Let's break down the closing costs so you understand what you're paying for and why.
Under the Financial Section you can see the purchase price, $300,000 in the Debit column, in the CREDIT column your deposit of $1000 and for the loan product in this example we used a 3% down conventional loan so the mortgage is a credit of $291,000.
Moving down to prorations and adjustments there's an HOA credit of $50 which might seem odd but down further you'll see a debit of the entire $350 HOA fee for the month and the credit is prorated because closing is 6 days into the month.
Here you see the seller credit for closing costs of $500 and lastly the county property tax owed for the remainder of the tax year of $352. The tax year runs from July 1st to June 30th and is due in 2 payments in December and February. Most lenders like you to pay through an escrow account which means you're paying the property taxes with your mortgage payment every month and the lender will pay the taxes when they are due. It's a REAL good idea to have these tax impounds, that way you won't have a giant lump sum to pay when the tax bill comes!
The next section breaks down all the 'Lender Charges'. The first line is prepaid interest of $805, and since the rest of the month is paid and your payment is due at the end of the month as interest accrues, the first mortgage payment won't actually be due for nearly 2 months. Woo Hoo! That's a relief! The next charge of $525 is a lender fee, called points that get paid to your lender. Then the appraisal fee of $450, Credit report $45, Flood certification $8, Tax service fee $85, and a Condo cert of $247. These fees can fluctuate a lot depending on your lender so keep an eye on those.
Lastly the lender CREDIT of $450 is a discount from the lender offered to help offset the fees.
For the next section, 'Impounds', the property taxes are pre-paid for 5 months to an escrow account ($1520). The reason for this is because the first tax payment due in December is paid in arrears, starting July 1st. The next payment in February pays for the remainder of the year up to June 30th meaning the escrow account needs to be padded to cover the entire year's taxes, hence the prepayment of taxes.
The next section 'Title and Escrow Charges' are fees charged to manage the Escrow and pay Title insurance to ensure a clean transferable title to you and your lender. Each county is different on who pays for these fees, so check with your agent or title company on that. In Sacramento county the seller will traditionally pay title and escrow but it's a negotiable term. In this example the Escrow fee is paid by the Seller and the Buyer only pays half of the Title insurance $583. For signing loan docs the notary fee is $100, and loan servicing fee is $430.
Lastly, the 'Miscellaneous' section... here you see the HOA Fees were paid for the month ($350).
Another often overlooked but important cost is a one year Home Warranty, most of the time in our area, we can negotiate that the Seller pay for it, however, if you can not come to an agreement with those terms, expect the cost to be around $400 - $850 depending on the size of the home, upgrades or coverage on things like appliances, pool/spa equipment and HVAC systems.
I hope this answers a lot of your questions about the costs of buying a new home!
If you're considering buying a home, give us a call! 916-500-4410
We'd love to help guide you through the process.
James Peterson